ECHY: bring sunlight indoors
How can we light up all areas of a building? Daylight is synonymous to pleasant surroundings, contributes to our well-being, our performance, and our health.
In order to bring sunlight into key building zones, north-facing rooms, dark ground floors, and basements, the engineers have developed an innovative technology which captures daylight on the outside of buildings and transports it inside using fiber optic cables. This technology can equally be used in health centers to diffuse natural light for patients, as well as in office buildings and commercial zones in order to improve employee work conditions and create pleasant and ecological sales environments.
ECHY's interior lighting holds key characteristics contributing to a building's atmosphere. The light diffused by ECHY equals that of the sun itself. Clean, natural and free from both heat and ultraviolet. The sun is the most beautiful source of light.
ECHY wants to revolutionize the world of lighting, so that tomorrow, we are all connected to the sun.
Daylighting System with Fiber Optic
3 steps to capture and diffuse the sunlight through a building: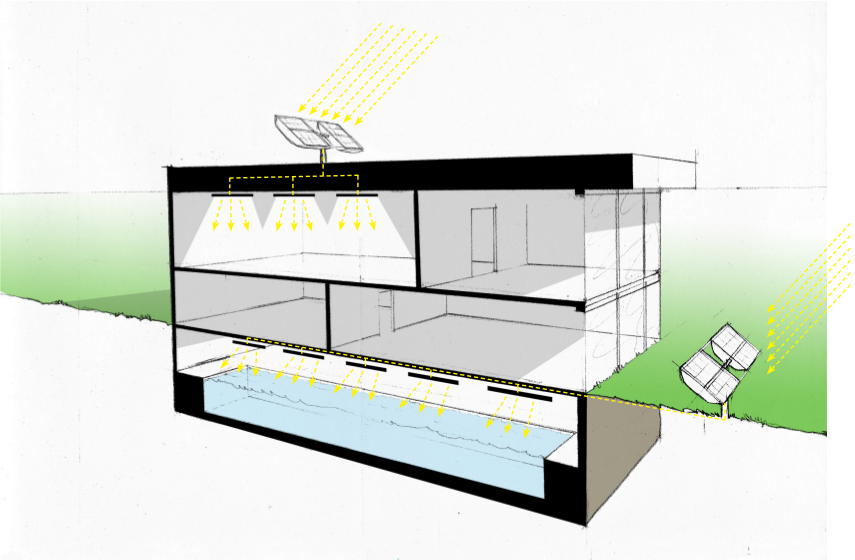 1.   Capturing sunlight
Our concentration module, made from Fresnel lenses, is fixed onto a tracker which follows the sun throughout the day.

2.   Transporting natural light
Once concentrated, sunlight along with all its benefits are transported inside by fiber optic cables.
3.   Diffusing daylight
Our light is diffused by our simply-designed luminaires, available either as 100% natural or hybrid (with integrated LEDs).

The products: