---
SUN PROTECTION
By

External sun shading systems
The external WAREMA sun shading system reduces solar incidence of energy. Incidence of light is optimised to allow for sufficient daylight utilization without glare. The concept is simple: Depending on time of day or year more or less sunlight is allowed in and the system uses more or less of the possible solar energy gain.
Internal sun shading systems
The internal WAREMA product provides additional glare control all year round, providing comfort and a high level of comfort. Visual privacy or view out can be individually adjusted. High-grade materials and a varied color palette give
individual style to any room.
Intelligent control system
WAREMA control systems create the ideal room climate with optimum daylight utilisation. They make use of solar energy according to demand and around the clock.
Summer Daytime
Solar incidence of energy has to be kept low on a hot summer day. Incidence of light should be high enough to allow for sufficient daylight utilisation without glare. Additional internal glare control can be used where requirements are especially high.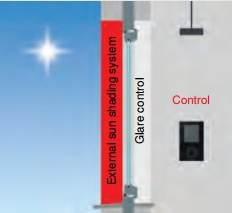 Winter Daytime
Solar energy gains should be used on a cold winter day. When the sun is low the requirements for glare control are especially high. Only internal glare control with low transmission is used. Dark colours ensure that a large quantity of solar energy can be used.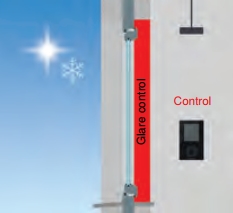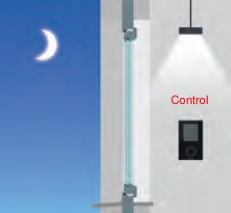 Summer Night
At the end of a hot summer day the building will have heated up. At night the control raises all existing sun shading system components which block the heat flow from the inside to the outside. This supports the building cooling down.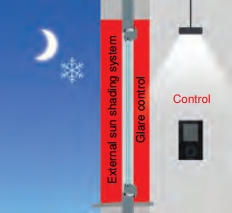 Winter Night Time
During the cold winter night the building has to be protected from heat loss. This requires all sun shading products to be lowered. The resulting air pockets between the individual components improve heat insulation.
UV protection:
 Healthy provider of shade
The sun is not only a giver of life and a source of vitamins, it can also be a threatening force. Studies of the World Health Organization (WHO) have estimated that cases of skin disease triple due to the damaging effects of UV rays. Intensive protection and preventive measures against UV radiation can protect against skin damage.
The sun shading factor of WAREMA awning designs is an indicator of how much longer skin can be exposed to sunlight without burning when shielded by the awning. The safe sun exposure time can be increased 80-fold by the awning fabric.
Ask us how to determine your own personal protection factor and enjoy the sunny side of life without concerns.
Light guidance systems:
Controlled use of daylight
Light guidance blinds are specially designed for daylight control. The main purpose of these blinds is to effectively steer daylight incident upon the windows onto the ceiling and into the middle of the room, thus ensuring that enough natural light enters the room to eliminate the need for artificial lighting for as long as possible.
This is achieved through the use of specially developed, concave slats with highly reflective surfaces. The slat spacing and geometry is calculated to reflect all of the light falling onto the blind's surface into the room.
Ergonomic illumination of computer workstations must not only addresses the efficient utilization of daylight but must also provide for the thermal and visual comfort for the occupants.
WAREMA light guidance venetian blinds are daylight systems that can meet all of these requirements. They are suitable for use in interiors and in weather-protected double facades.
Glare control for computer workstations
Natural fluctuations in brightness can lead to excessive contrasts and reflections in the modern workplace that cause glare.
For these situations, WAREMA has developed light guidance venetian blinds that shield computer screens.
The slats are divided into two sections. When positioned to shield computer screens from glare, the lower slats are closed while the upper ones are left in a horizontal position to allow daylight to enter the room without causing glare.
In the standard model, the two slat sections are interconnected.
WAREMA double-blind
The WAREMA double blind is particularly comfortable and versatile. The two slat sections can be operated completely independently of each other. Whether to shield computer screens or for meetings, on overcast winter days or clear summer days, the blinds can be adjusted to create the ideal lighting conditions for every working situation.
Effective summer heat protection
Especially during the summer months, daylight systems run the risk of transporting too much light (radiation) into the room. This radiation is absorbed and transformed into long-wave infrared radiation which heats up the room excessively (greenhouse effect).
With the WAREMA light guidance blinds, users can adjust the transmission coefficient (incidence of light) to their individual needs by simply modifying the slat angle.
Since the mirror-finished slats reflect rather than absorb radiation, the unwanted radiation will pass back out through the window pane without heating up the room.
This means that slats can be adjusted not only to change the transmission coefficient, but also to set the total energy conduction coefficient [gf] of daylight systems and the glazing.
The available setting range extends from the g value of the glazing (venetian blind raised) to the venetian blind being completely closed.
What people like about us
TESTIMONIALS
Greg H. - Santa Monica (CA)
I sent an email to contact them. A few hours later I was called to check my needs and they scheduled a visit two days later. There are plenty of choices and options, so they showed me a selection of cassette awnings that fit my balcony. I decided to choose the K70. I'm very happy now, the design is gorgeous and the installation is perfect… Now I recommend them for their professionalism and advice.
Cassette Awning K70
John & Diane - Pacific Palisades (CA)
John: First, I was surprised by the possibilities of this product. Can we trust that it works outside? The answer is YES, no doubt, the quality is amazing and it's well assembled.
Diane: I wanted something to keep the sun outside without losing the interior space. Now, I'm comfortable to live in my house, it is cooler and I can stay near the windows.
External Venetian Blinds - E 80 - Motorized
Mike - Culver City (CA)
When I called, I explained that I needed to bring more natural light into my living room, but I also wanted to keep the windows I have. The bedrooms upstairs don't allow me to use a solar tube. But, they told me "we have a solution for you". After a few days, they convinced me to buy their special blinds. The slats of these blinds are so special that it works like mirrors that diffuse light! More than that, the sun no longer heats my living room. That's really impressive!
Ligth Guidance Venetian Blinds
Kevin D. - Pasadena (CA)
I needed a sun protection sufficiently wide to cover my entire terrace. I went to different stores but none had the right product. I finally found Construction Progress on the internet. After only a few hours of waiting, I could get an answer and now I have a motorized pergola that covers the entire surface. Thank you for your excellent work!
Pergola Awning P40
Anonymous - Bel Air, Los Angeles (CA)
After many reviews and discussions with CPHBA, I was convinced that this new filter system in ceramic does a very efficient cleaning of the water. I was impressed by the demonstration. And it's very resistant and durable, so I decided to ask my pool builder to adapt this system to the pools and Jacuzzis.
CRYSTAR® FT Filters – HiPur