---
SUN PROTECTION
By

External sun shading systems
The external WAREMA sun shading system reduces solar incidence of energy. Incidence of light is optimised to allow for sufficient daylight utilization without glare. The concept is simple: Depending on time of day or year more or less sunlight is allowed in and the system uses more or less of the possible solar energy gain.
Internal sun shading systems
The internal WAREMA product provides additional glare control all year round, providing comfort and a high level of comfort. Visual privacy or view out can be individually adjusted. High-grade materials and a varied color palette give
individual style to any room.
Intelligent control system
WAREMA control systems create the ideal room climate with optimum daylight utilisation. They make use of solar energy according to demand and around the clock.
Summer Daytime
Solar incidence of energy has to be kept low on a hot summer day. Incidence of light should be high enough to allow for sufficient daylight utilisation without glare. Additional internal glare control can be used where requirements are especially high.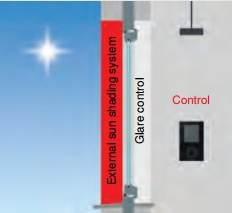 Winter Daytime
Solar energy gains should be used on a cold winter day. When the sun is low the requirements for glare control are especially high. Only internal glare control with low transmission is used. Dark colours ensure that a large quantity of solar energy can be used.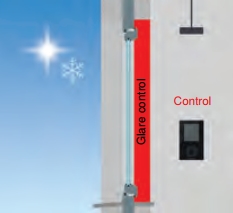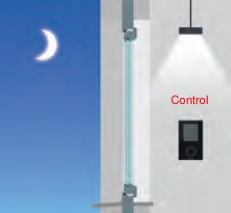 Summer Night
At the end of a hot summer day the building will have heated up. At night the control raises all existing sun shading system components which block the heat flow from the inside to the outside. This supports the building cooling down.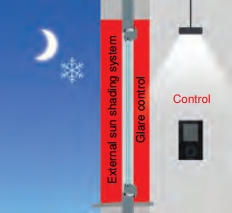 Winter Night Time
During the cold winter night the building has to be protected from heat loss. This requires all sun shading products to be lowered. The resulting air pockets between the individual components improve heat insulation.
UV protection:
 Healthy provider of shade
The sun is not only a giver of life and a source of vitamins, it can also be a threatening force. Studies of the World Health Organization (WHO) have estimated that cases of skin disease triple due to the damaging effects of UV rays. Intensive protection and preventive measures against UV radiation can protect against skin damage.
The sun shading factor of WAREMA awning designs is an indicator of how much longer skin can be exposed to sunlight without burning when shielded by the awning. The safe sun exposure time can be increased 80-fold by the awning fabric.
Ask us how to determine your own personal protection factor and enjoy the sunny side of life without concerns.
Light guidance systems:
Controlled use of daylight
Light guidance blinds are specially designed for daylight control. The main purpose of these blinds is to effectively steer daylight incident upon the windows onto the ceiling and into the middle of the room, thus ensuring that enough natural light enters the room to eliminate the need for artificial lighting for as long as possible.
This is achieved through the use of specially developed, concave slats with highly reflective surfaces. The slat spacing and geometry is calculated to reflect all of the light falling onto the blind's surface into the room.
Ergonomic illumination of computer workstations must not only addresses the efficient utilization of daylight but must also provide for the thermal and visual comfort for the occupants.
WAREMA light guidance venetian blinds are daylight systems that can meet all of these requirements. They are suitable for use in interiors and in weather-protected double facades.
Glare control for computer workstations
Natural fluctuations in brightness can lead to excessive contrasts and reflections in the modern workplace that cause glare.
For these situations, WAREMA has developed light guidance venetian blinds that shield computer screens.
The slats are divided into two sections. When positioned to shield computer screens from glare, the lower slats are closed while the upper ones are left in a horizontal position to allow daylight to enter the room without causing glare.
In the standard model, the two slat sections are interconnected.
WAREMA double-blind
The WAREMA double blind is particularly comfortable and versatile. The two slat sections can be operated completely independently of each other. Whether to shield computer screens or for meetings, on overcast winter days or clear summer days, the blinds can be adjusted to create the ideal lighting conditions for every working situation.
Effective summer heat protection
Especially during the summer months, daylight systems run the risk of transporting too much light (radiation) into the room. This radiation is absorbed and transformed into long-wave infrared radiation which heats up the room excessively (greenhouse effect).
With the WAREMA light guidance blinds, users can adjust the transmission coefficient (incidence of light) to their individual needs by simply modifying the slat angle.
Since the mirror-finished slats reflect rather than absorb radiation, the unwanted radiation will pass back out through the window pane without heating up the room.
This means that slats can be adjusted not only to change the transmission coefficient, but also to set the total energy conduction coefficient [gf] of daylight systems and the glazing.
The available setting range extends from the g value of the glazing (venetian blind raised) to the venetian blind being completely closed.
NATURAL LIGHT SOLUTIONS
By   
BENEFICIAL FOR OUR HEALTH
Natural light has positive effects on our body
Natural light not only affects our vision, but also many other biological functions, namely linked to our body clock, our sleeping patterns, our cardio-vascular system, our hormone production and our metabolism in general.
Numerous studies have shown that exposure to sunlight has a significant impact on how our body functions.
Indeed, our circadian rhythm, driven by a 24-hour biological clock, is regulated in accordance with the amount of natural light we receive. Too small a dose can disrupt and even damage this cycle.
The concept of well-being is in itself explained by the fact that cortisol levels, which influence our alertness and our mood, increases the more we are exposed to natural light. Daylight is therefore fundamental to our comfort and well-being.
Natural light strengthens the immune system and helps to prevent premature aging (1)
Exposure to natural light reduces the risks of diabetes, insomnia, obesity and depression (2)
Blue wavelengths, found in natural light, slow down and help fight the progression of myopia and each additional hour spent exposed to natural sunlight decreases the chance of developing myopia by 2% (3)
Exposure to natural light in the mornings can help us sleep better at night, can make us feel more alert during the day and can calm violent or aggressive behavior in Alzheimer's patients. (4)
(1) Influence of Architectural Lighting on Health – Eve Edelstein, PhD
(2) Exposure to Natural Light Improves Workplace Performance – Christopher Bergland – The Athlete's Way (2013)
(3) Tous Myopes – Sciences & Vie N°1173 (2015)
(4) Light Therapy and Alzheimer's Disease and Related Dementia: Past, Present, and Future – Nicholas Hanforda and Mariana Figueiro (2013)
Enhances well-being, productivity and creativity
Almost half of employees find the lack of natural light in their offices to be a serious issue, especially considering that it is proven to boost motivation and productivity. Work environments which are exposed to daylight offer peaceful and pleasant surroundings and are known to stimulate mental aptitude, meaning that employees will concentrate more on the task in hand.
Natural light penetrates our body via photoreceptors in the eye (cells which are sensitive to light) and helps regulate our circadian rhythm. Throughout this cycle we produce hormones such as cortisol, melatonin and dopamine.
Melatonin contributes to our feelings of fatigue and reduces our concentration, whilst dopamine enhances our attention and motivation. Exposure to natural light not only reduces our blood levels of melatonin but also stimulates the body's production of dopamine; making us more reactive, alert and motivated.
For almost 90% of employees, working in direct contact with natural elements – including natural light –enhances their feeling of well-being (1)
When exposed to natural light, employees are15% more creative and productive (2)
Natural light has a positive effect on levels of absenteeism: those enjoying healthy exposure to natural lighting are less vulnerable to seasonal depression, psychological fatigueand stress (3)
Good quality lighting improves visual conditionsand boosts alertness, meaning that employees can carry out complex and meticulous tasks more effectively. So that natural light – a source of visual comfort, helps to improve work conditions whilst reducing the risk of accidents (4)
(1) Case study in the USA – Genzyme Corporation (2004)
(2) The Global Impact of Biophilic Design in the Workplace – Human Spaces (2015)
(3) « La lumière naturelle, le médicament de demain ? » – Lettre d'information du GIF – Dr Claude Gronfier (2011)
(4) Travail & Facteur Humain – Fiche d'information « Ambiance Lumineuse » – L'espace CHSCT (2015)
ARCHITECTURE & DESIGN: INCREASES THE VALUE OF WINDOWLESS SPACES
« Architects in planning rooms today have forgotten their faith in natural light.  Depending on the touch of a finger to a switch, they are satisfied with static light and forget the endlessly changing qualities of natural light, in which a room is a different room every second of the day. » Louis Kahn – Silence and Light (1996)
There is no luminous spectrum better for maximizing indoor spaces than that of the sun. Natural light provides us with a sense of time and space, and enhances our perception of colors, shapes and textures of objects.
Moreover, it has been proven that natural light has numerous positive impacts on our health and well-being, namely that it regulates our circadian rhythms, our alertness and our concentration. This is why lighting is one of the most important elements of an architectural project, as it will determine people's experience inside the building.
According to building experts a square meter which has access to natural lightis worth twice as much than a square meter in the dark.
Indirect daylight(e.g. skywells, natural lighting with fiber optics…) allows constructors to build wider buildings that are less costly.
Daylight from windows is a circadian-effective light source. But daylight levels in the room drop quickly as the distance from the window increases; just 3–4 meters away from a window and daylight levels are quite low, even on a sunny day. (1)
(1) Light Therapy and Alzheimer's Disease and Related Dementia: Past, Present, and Future – Nicholas Hanforda and Mariana Figueiro (2013)
 In offices and places of learning, 70% of information comes from our vision. The quality of lighting, therefore, has to respond to the needs of everybody; managers, teachers, architects, researchers…
Whilst there is no minimum level of natural lighting required by law, certain standards – namely LEED and BREEAM – encourage more and more the integration of natural light solutions. The quality of light emitted by the sun is not only vital for our visual comfort, it also gives us an important contact with the outside and enhances our notions of space and time.
ENERGY – ENVIRONMENT: A CLEAN AND SUSTAINABLE LIGHT
Sustainable development is « a development which responds to our current needs without compromising the capacity of future generations to meet their needs ». It is based on three fundamental dimensions; economic, social and ecological. Within our current global context, especially regarding climate change, sustainable development is one of the most important geo-political solutions facing our global leaders.
For many, climate change is already with us, and is currently considered as one of the largest geo-political threats of our generation. To cope with it, one of the biggest areas of improvement is designing and constructing energy-efficient and innovative, low-energy buildings to reduce Green House Gas emissions and our overall impact on the environment.
There is also predicted to be a higher emphasis placed on all things solar. Indeed, when talking about ultralow energy and sustainable design, the sun is an important element. One way that we can contribute to reducing our impact on the environment, therefore, is to invest in different forms of natural light technology.
Internationally, the BREEAMand LEED certificates encourage developers and constructors to aim for energy savings whilst at the same time investing in innovation and sustainable development. (1)
In France, the RT 2012is based on lighting energy savings, particularly by introducing as much natural light as possible inside of buildings. The idea is to reduce the amount of artificial lighting by maximizing natural light inside of buildings.
In France, 12%of electricity consumed comes from lighting, and over 70% of lighting is used during the daytime. If alternative solutions enabled us to light using natural sunlight, there would be potential energy savings of up to 70%. (2)
(1) BREEAM versus LEED – Inbuilt Ltd (2010)
(2) Association Française de l'éclairage (AFE) – L'éclairage en chiffres (2015)
What people like about usTESTIMONIALS