BIM Objects: Download files of the External Venetian Blind here. 2 formats available: ArchiCAD (.gsm) or Revit (.rfa)
If you need help to change the parameters, please follow the tutorial here.
External Venetian Blinds create an optimal lighting atmosphere at any time of day and allow perfect daylight utilization.
The individually adjustable slat angle ensures that rooms receive just the right amount of daylight while protecting against prying eyes. With our External Venetian Blinds, we are therefore able to provide flexible daylight utilization for both maximum energy efficiency and a truly comfortable setting.
You can depend on our supplier!
With over 50 years of production history WAREMA, external Venetian blinds offer perfected sunlight management.
Not only does WAREMA deliver products of superior quality, the company makes sure that you'll always find the perfect solution for every situation with the widest range of external Venetian blinds on the market
All this means that you can plan for the long-term right from the start – with External Venetian Blinds from the global market leader.

You have plenty of options to respond all your needs. The most common are:
The blind's geometry: rectangle or asymmetric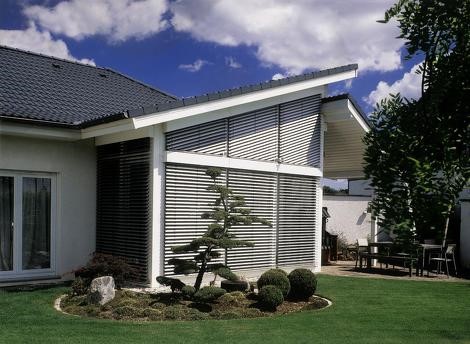 The size of the slat: 2" to 4" (50, 60, 80, 73*, 90*, 93* or 100 mm)
The geometry: flat, beaded, or "dim-out"
*: with specific shape "dim-out"

The guidance type: rail or cable

The slat colors: 30 colors in standard and much more in option

The driver: crank, standard motor or radio motor

Of course, If you order a motor with radio communication. It's easy to control your blinds with a remote or an app on your phone.
The cover panel's geometry

The color for all the other aluminum parts:
"Color World" by WAREMA

The Color World selection is available on all the powder-coated aluminum parts, such as guide rails, cover panels, profiles and boxes.
3 color categories: Highlight, Variation and Individual
Over 400 Powder colors
Up to 5 different surfaces for just the right gloss level and texture
– satin finish
– matt
– fine texture
– highly weather-resistant matt
– highly weather-resistant fine texture
Example: WAREMA external venetian blind 80 S